posted by HSPN
Alumni and Graduate News
Front Royal Flames Homeschool Sports Organization Celebrates 20 Years. 12 Graduates recognized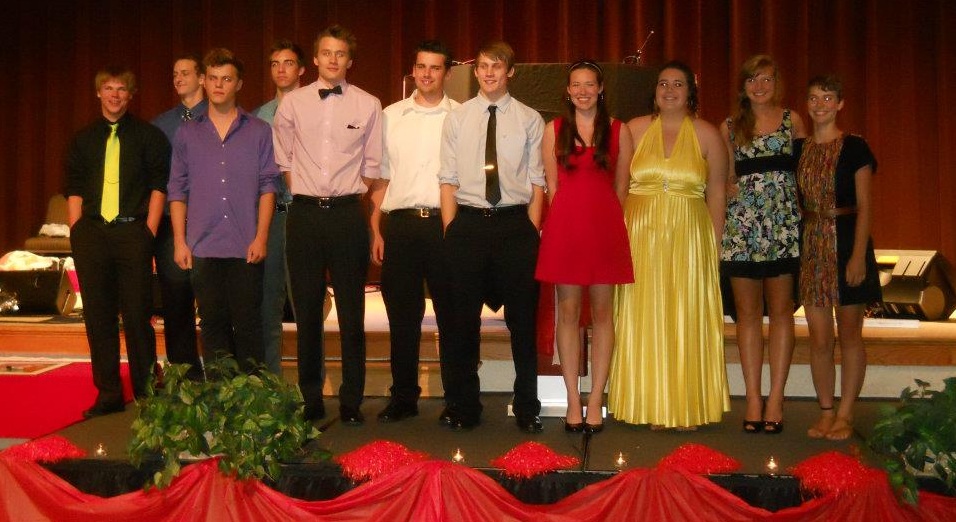 At their annual sports awards banquet last Saturday, the
Front Royal Flames Homeschool Sports Organization
celebrated 20 years of service. Founded by Chris Davis in 1992 (under the HEARTH homeschool group), former players and Alumni were on hand as guest speakers.
Over the past 20 years, the Flames have won a state championship, several national championships, been featured on the CBS Early morning news, played a basketball team from Sweden, attest to 7 marriages of former players and have had 5 basketball players score more than 1,000 career points (one of them scored over 2,000). They have had 3 players receive full-ride D-1 athletic scholarships and have over two dozen alumni that are college graduates from Virginia Tech, Liberty, George Mason just to name a few. Many more Alumni are currently enrolled in college. Since 1992, they have had 28 Alumni Reunion/Athletic events, and nearly 20 sports awards banquets. Estimates are that 2,000 homeschoolers have participated in at least one season of Flames Sports. Founder Chris Davis introduced the following Alumni guest speakers that night: Christopher George (class of '96), Nadena Barnett ('00), Lindsay Davis ('04), Paul Asper ('02), Casey Davis ('06), Ben Digges ('08), Teresa Asper ('07), Kelly Ann Digges ('09) and Cameron Weatherholtz ('10).
The Flames sports program is a year-round program for homeschooled students in the area in soccer, basketball and volleyball. Competitive teams start with their middle school boys and girls, and then JV and Varsity teams. They even have a development program in soccer for ages 5-11, and in basketball for ages 8-11. During the summer, the Flames offer pickup basketball, soccer and later in August, volleyball.
The 2012 Sports Awards Banquet recognized 12 seniors who played sports during the year – with the keynote address from Pastor Chris Robinson of Grace Bible Church in Marshall. Graduating student athletes from the class of 2012 are: Alison Digges, Brittany Tucker, Hannah Diermyer, Mary Foltz, Eliza Vencil, Brendon Foster, Edmund Malack, Bryce Weatherholtz, Nathan Updike, Dan Hody, Josh Richards and Zack Shreve
Boys Varsity Basketball Coach, Jason Weatherholtz, presented the following awards: MVP - Evan Hotek, Offensive Threat - Brendon Foster, Defensive Enforcer - Nathan Updike, The Mad Bomber - Dan Hody, The Hustler - Bryce Weatherholtz, Get That Out of Here! - Josh Richards, That's My Rebound! - Edmund Malack
MS and JV Boys Basketball Coach, Brad Foster, presented the following awards: MVP (MS) Chandler Brooks , Best Offense (MS) Nathan Malack, Best Defense (MS): Dawson Foster, Hustle Award (MS): Benjamin Smith, Most Improved (MS): Noah Vittitow, MVP (JV): Andrew Malack, Best Offense (JV): Matt Hody, Best Defense (JV): Isaiah Vittitow, Hustle Award (JV): Simon Vittitow (JV), Most Improved (JV): Caleb Foster
MS Girls Basketball Coach, Glen Diermyer, presented the following awards: Sportsmanship: Julia Rima, Most Improved: Emma Johnson, Best Defense: Carrie Hotek, Best Offense: Hope Diermyer, MVP: Emily Weatherholtz
Chris Davis, Girls Varsity Basketball Coach, presented the following awards: Dependable Defender – Kristen Hotek, Spiritual Leadership – Abby Weatherholtz, Captain Courageous – Alison Digges, Reliable Rebounder – Hannah Diermyer, Most Improved – Brittney Smith, MVP – Keiana Brooks
Boys Varsity Soccer Coach and Alumnus, Paul Asper, presented the following awards: Zachery Shreve - Best Goal, Simon Vittitow - MVP
Girls Varsity Soccer Coach Chris Davis presented the following awards: Most Consistent – Rachel Ellison, Outstanding Leader – Eliza Vencil, Most Improved – Holly Steigerwald, MVP – Emily Weatherholtz.
Four graduating seniors received the following awards: Senior Excellence to Alison Digges and Dan Hody; Athlete of the Year, Female: Eliza Vencil, Male: Josh Richards
For more information on the Flames, visit their website at
www.frontroyalflames.com
.